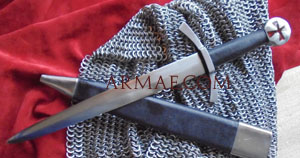 Description
This dagger is a perfect pair with our SW910 Templar sword : same shape, same Templar cross in dark red enamel on the pommel.


Length 45cm, weight 0,5kg, wooden scabbard covered in leather with iron brackets. Grip covered in leather.
×
All these weapons have steel blades, but are not intended for fencing, unless otherwise specified.