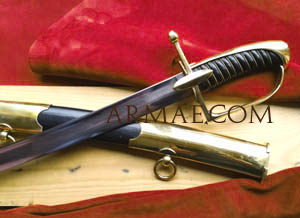 Description
The hussars, originally coming from Hungary, were part of the French army since Louis 14. They were probably the most unruly and restless units of the French army, and used to be quite independent when it came to choosing their weapons.

A new saber was designed specially for them in 1777; this is our copy, in which the fleur-de-lily logo engraved on the blade has been removed, showing it is a republican production. The blade is marked "Klingenthal", for many of these weapons were mass produced during the republican wars, and were of poor quality, unlike the Klingenthal ones;

Length 99cm, blade 85cm.
×
These swords and sabers are high quality copies. Blades are made of forged and tempered steel. They might not be used for fencing, though.