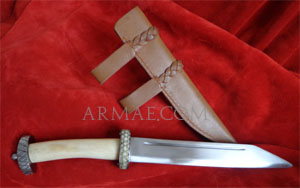 Description
The sax, or scramasax, was a typical dark age Germanic weapon, which was quite widespread around the 8th cent. This one is a small one, to be worn in the back, as all saxes.

Length 39cm (blade 24cm), hilt made of bone, leather scabbard.
×
All these weapons have steel blades, but are not intended for fencing, unless otherwise specified.