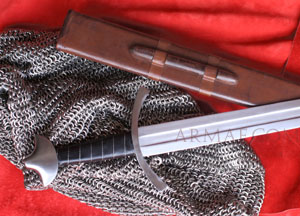 Description
Named after the famous Saint Jean d'Acre city, in the Holy Land, this sword is a late 12th cent one. It has an interesting crescent shaped pommel, which was quite uncommon at this time.

Length 95cm (blade 79cm). Weight 1,4kg. Width of the blade at hilt's level : 4,5cm. Hilt covered in leather. Scabbard made of leather covered wood, with a wooden suspension piece.
×
All these weapons have steel blades, but are not intended for fencing, unless otherwise specified.