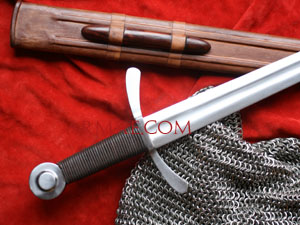 Description
The principality of Antioch, in the holy land, will fall during the second half of the 12th cent. Our reproduction dates from this time, with its big round pommel and its quillons turned upward.

Length 95cm (blade 78cm). Weight 1,2kg. Width of the blade at hilt's level : 4,5cm. Grip rounded by a thick leather lace. Scabbard made of leather covered wood, with a wooden suspension piece.
×
All these weapons have steel blades, but are not intended for fencing, unless otherwise specified.