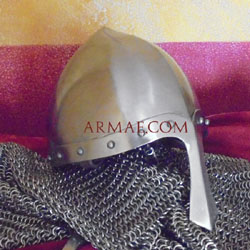 Description
The hat of this nose-guard helmet is made of one piece, and is ogival shaped to improve its ability to deflect the blows. The nose guard is made from another piece, which surrounds the helmet, therefore strengthening it.

Weight 1,3 kg. 19x23 cm inner dimensions. Inside covered in leather.
×
All the helmets - unless otherwise specified - come without internal padding.