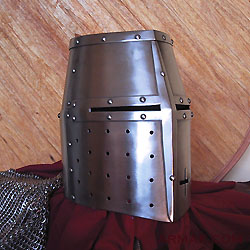 Description
On this much more simple great helm of the 13d cent, the brass cross was replaced by an iron one. The top of the hat is now conical. At this time, most of the helmets were painted, remembering the knight's armories.

Weight 2.7kg. 26cm (long) x 20cm (wide). Metal 1.5mm thick.
×
All these helmets are EEC handmade. Metal thickness is 1,5 to 2mm, and the helmets come with an internal padding. They are standart size (58/61), but may be made on measurement. Please contact us before ordering if you want them to be made on measurement.