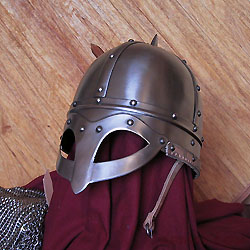 Description
Made after an helmet found in Gjermundbu, in a warrior's grave. The holed leather band may be used to fix a chainmail neck guard..

Weight 1.8kg. 21cm (long) x 19cm (wide). Metal 1.5mm thick.
×
All these helmets are EEC handmade. Metal thickness is 1,5 to 2mm, and the helmets come with an internal padding. They are standart size (58/61), but may be made on measurement. Please contact us before ordering if you want them to be made on measurement.