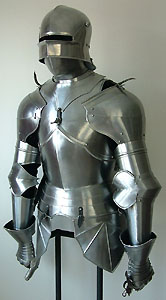 Description
During the 15th century, many warriors, including noblemen, used to wear only some armor parts, to spare on weight and cost.

Our half armor includes all the parts of the full one, except leg protections. It is hand made in the EEC, on measurement.
×
All these armors made on measurement are EEC made, with a very high quality level. They are fully functionnal, made of 1.3/1.8mm steel plates. You will have to send us about 40 different measures to have your armor made. Please contact us to get the measurement chart. Delivery time is about 6 months, and a 50% payment is required at ordering.